FIFA 2009 for N-Gage
It's a new football season on N-Gage with EA's FIFA 2009. But does it equal FIFA 2008? Er, yes, pretty much in every respect. Ewan puts the red card away and starts playing a familiar title.
Version Reviewed: 0.5.5
Score: 78
There's a simple question to ask about FIFA 2009. Is it better than FIFA 2008 on the N-Gage, worse, or about the same? Pardon me if I keep you on tenterhooks for a little bit longer before I answer that one (for some reason, reviews need to be a bit more than a hyperlink to last year's review with a changelog!)...
Actually, that's not that far from the truth. EA Sports games have a long history of being reissued each year, with newly updated databases, stats and information about the teams, players or other tweakable areas. This yearly update is also a great chance to do some bug fixes, improve the overall gaming experience, and generally spruce up the interface.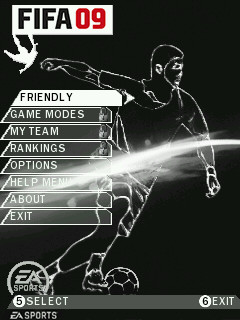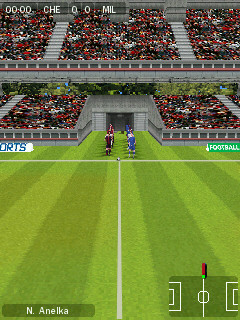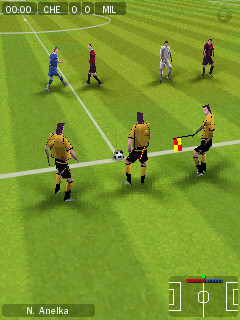 From what I can see, nothing has been added in terms of interface or options, although the look and theme of the menus have been tweaked to a high contrast, almost b/w negative image. Not that anything has materially changed from Fifa 08 to Fifa 09 in the menus or setting up your games. You still have your friendly games, the ability to take part in a year long league, or enter national and international competitions; plus the challenges ('win with ten mintues to go and two goals down' style) are there as well.
At this point you might as well scoot over and read the Fifa 08 review, so that we're all reading from the same page.
Right then, there actually is one major change in 2009 compared to 2008, and that's the control mechanism. It's been significantly streamlined in 2009, with only your direction keys and two action buttons. Previously there were a number of extra buttons for short passes and special moves. This has been rationalised to something that's a lot more arcade-like, and admittedly easier to explain and play.
I'm not the greatest at any FIFA game, so asking me if this makes the game any easier is rather like asking Girls Aloud if miming makes dancing on stage easier. What I can say is that I seem to be just as successful in terms of winning against rubbish teams (such as the Scotland international squad), and getting trashed by better teams than me (like West Bromwich Albion), so I'm going to say that it doesn't materially affect the ability to play well.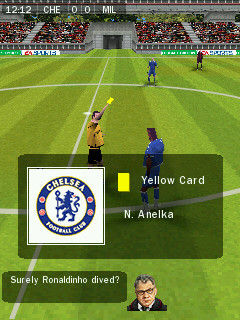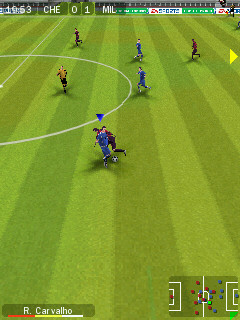 While you can treat FIFA 2009 like a pure arcade football game, and I'm sure a lot of casual users, and those just trying the demo, will take this route, there is more under the surface for the competent player. Each individual in the team has their own strengths and weaknesses. Some of this is quite subtle, in terms of how accurate they are at shooting the ball, but sometimes it can be very coarse, such as a defender being useless as a striker (unless he's Scottish, when everyone is useless as a striker).
And of course you have the formation of your team, the classic 4-4-2, 4-3-3 numbers bandied about to represent the number of defenders, midfield players and forwards a team has. These can be changed on the fly during a game, or between games, but naturally you need to make sure you have players who can work in the position they will be moved into if you change the formation in the middle of the game - remember you only get a handful of substitutions per game.
What does appear to have changed is the computer AI. There seems to be a much more intelligent opponent, able to position his (or her) players in better positions while defending, and able to move the ball around and read the tactical situation to a better extent than before.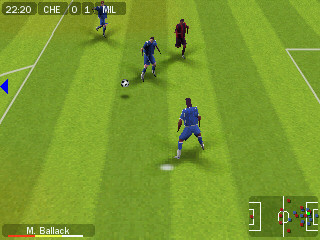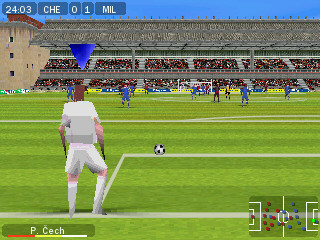 Which you're going to need, because just as in FIFA 2008, there is no multiplayer mode. While it's understandable that there isn't an online version, I can't think of an earthly reason why Bluetooth multiplayer is not available. Actually that's not true - I can think of one. Because it wasn't in FIFA 2008, which likely had the lion's share of development cash. FIFA 2009 is less a new game, more a next iteration, with some bug fixes, improvements and customer feedback added to the mix. There's some cash and time for little changes, but major changes aren't for this sort of update.
FIFA 2008 is broadly the same as FIFA 2009.
Interestingly, FIFA 2008 is still listed on the N-Gage web site at £6, with FIFA 2009 at £8, which begs the question - is this version worth an extra £2? That's actually a tough call, and luckily you can still grab both demos from the site to decide. If you've been playing FIFA 2008 extensively then I don't think FIFA 2009 offers enough 'new' to the mix. Yes, the individual challenges have been updated, but the loss of control buttons feels a bit like a backwards step.
Those new to either title will probably veer towards 2009, mostly through human nature to pick up the latest ones. Don't get me wrong, there's nothing to fault the new one (apart from the same things that faulted the older version). The fact that an EA title on the N-Gage is doing what EA titles do on every platform can be considered a good sign for the platform...
AAN Score: 78%
-- Ewan Spence, Nov 2009
Review Discussion
Tzer2
I think the control issue is one that can go both ways: some people do prefer having fewer buttons on phone games (especially in horizontal mode where only two buttons are accessible on many handset models), while others prefer having lots of buttons.

Fortunately there's something for both crowds: those who want lots of buttons can get FIFA08 while those who want fewer buttons can get FIFA09.
exmaster
fifa09 is a worthy challenger to fifa08.one thing i dislike is the commentary on fifa09:)
sandy_1988
What type of commentary is there in FIFA 09?
Unregistered
The type you'll find in Real Football. Cheesy as hell.
sandy_1988
Oh those very animated 'One liners'? Bugs the hell out of me. Why do these companies bother giving those?
Arthur
There isn't online play? What an incredible joke! Unbelievable! A game without online play on a phone or device that is connected to the internet is plain stupid.

But I guess it makes sense when you look at it. Ngage is way down the list of priorities for EA and developing for Ngage is an afterthought for these folks. That's why Ngage games have all been crap so far.
Tzer2
Quote:
That's why Ngage games have all been crap so far.
That's just not true! :-)
Most of the first party N-Gage games have been excellent: Reset Generation, Creatures Of The Deep, Bounce Boing Voyage, One, System Rush Evolution etc have been some of the best phone games ever made.
And even just looking at EA's releases, FIFA08 and FIFA09 are pretty good. The lack of online is a disappointment, and they should have at least had Bluetooth multiplayer, but most people mainly play offline single player games. And we haven't even seen most of EA's announced N-Gage releases yet: Need For Speed, Monopoly, Spore, Boom Blox, Sims 3, Tiger Woods etc are all still to come.
Unregistered
Hey Tezr!

have you any Idea what the Nokia Ngage Team is up to, first of all for the past three months nokia has released so few games and most of them are scrap, there is nothing so great in them that they should be given the title as "Ngage Games", they look like so common s60 games,

I mean when is Nokia going to make use of their accelerator or 3d graphic Card for their games, all other phone companies are releasing excellent games with these facilities for their phones why would any one want to even think of Nokia then for games, and its such a shame for nokia that after they relaunching Ngage which has such great power in its name are releasing all scrap normal s60 games except for some very very few games.

and what about WORMS which I and many others were waiting for so long, after all the promises they made about it showing us screen shots of the game etc, and now they just removed it, I would not like to say much but the truth is I love IPhone games many many more times that Nokia, and just look at the many Innovations in their recent games.
Unregistered
Hi..i just wanna ask why is there a need for the n-gage platform? Isn't the sis/sisx version good enough? I personally find them better than the n-gage versions so far, games like asphalt 3, fifa 08, space impact, snake, in the sense that they're more challenging. The n-gage versions are too easy, and i'm just a casual gamer. Also in the case of fifa 08, it seems to me the sisx version offers better control, no lag and much smoother gameplay than n-gage. Plus there are lots of other excellent games like k-rally, crash nitrokart, lament island, asphalt 4(coming on n-gage) with bluetooth multiplayer that's so much fun, and countless others. So why's the need for n-gage? Can anyone clarify? . ,
argh
Quote:
Originally Posted by
Unregistered
Plus there are lots of other excellent games like k-rally, crash nitrokart, lament island, asphalt 4(coming on n-gage) with bluetooth multiplayer that's so much fun, and countless others. So why's the need for n-gage? Can anyone clarify? . ,
When an average user buys an S60 phone, they may not be aware of the ability to install games like this. The Download! utility is pretty awful, as I think everyone agrees.
The n-gage application (when installed on handsets) presents a selection of good quality games to users, and provides more revenue for Nokia.
Oh, and I'm pretty certain that Crash Nitrokart will be coming to n-gage - the developers (Polarbit) website says that it was developed for S60 and NGI (which I think is the latest N-Gage version?) as well as Brew and iPhone.
I assume that as it's best with 3D acceleration, they're waiting for the 3D SDK to be released. It would be nice if it also had the accelerometer support from the iPhone version too.
They also did Global Race, btw, and are continuing to develop great 3D accelerated games. Unfortunately, their latest racing game, Raging Thunder, appears to be iPhone-only at the moment, as they've had so much success with the iPhone App Store. Oh, and it has multiplayer too. I really hope that this makes it to n-gage at some point.
It makes me a little sad to see how Nokia is letting down their developers by failing to take advantage of features of the handsets and releasing handsets that are technically less advanced than previous ones. I hope that they get the next n-gage update out the doors quickly, with full support for 3D acceleration and analogue controls (although the number of developers taking advantage of the 3D acceleration with so few handsets available will probably be minimal, while developers for other platforms will find developing their games a much smoother experience *sigh*).
robg79
So what would be up with EA adding some more substantial commentry & taking the game up to 6mb or so? They could lift the commentry straight out the console versions could they not?
Unregistered
Ewan Spence you are English I take it? Well you are undoubtedly an ignorant twat.......